PRIVATE HOME CARE SUPPORT IN CANTERBURY AND SURROUNDING AREAS
The work we do has earned significant local and national press
Read more about the impact of our work within the private home care industry and beyond
 Call Sally for press enquiries, photos, permissions, comments and opinion on 01227 454900 or email sally@seniorshelpingseniors.co.uk
For more information on our services contact us today on Canterbury: 01227 454 900| Thanet: 01843 606 991|
Dover, Deal and Sandwich: 01304 24 99 55 | Ashford: 01233 746 000 | Faversham: 01795 515 392 | Guildford: 01483416653 | Sevenoaks/Tonbridge: 01732 495 665 | Brighton/Hove 01273 090848 
Local News: The launch issue of  The Broadstairs Bulletin
features how we are ready for whatever 2021 has to throw at us
Taking our clients out and about and how we earned our S.A.F.E care badge because of our outstanding track record with COVID-19
How we are ready for 2021 with elderly care in Broadstairs
February 2021
Local News: Want to know why we are Tougher Than 2020?
The Whitstable Clipper Magazine has the scoop.
2020 has been a tough year but we have been tougher and we are ready for whatever this ominous winter has in store.
The story talks about us hiring more amazing carers and our additional COVID-19 precautions. We talk about all the things we get up to with our clients and how we are helping people prepare for winter. Republished with kind permission of HoffMedia
October 2020
National News: The Living Wage foundation interviews us in our capacity as Living Wage Foundation champions for the care sector
Seniors Helping Seniors (SHS) is a social care organisation using a unique model to tackle two of the biggest issues facing our society today: elderly care, and employment opportunities for people as they age. Sally Wilse, Co-Owner of SHS UK, explains the value of their care model, and the importance of paying their carers the real Living Wage
Read more here:
https://www.livingwage.org.uk/news/guest-blog-seniors-helping-seniors-social-care-fit-purpose.

August 2020
Local News: The Whitstable Clipper (Issue 2)
Our article in The Whitstable Clipper magazine
July 2020
Re published by kind permission of HoffMedia
Award Winning Care
Seniors Helping Seniors shares some stories that say so much about resilience and expertise in Whitstable.
Christian Wilse, owner of Seniors Helping Seniors, employs active older people with some time on their hands to support less able or active people to remain independent in their own homes across Kent. He explains: "It's fair to say people took a lot of convincing that Covid-19 was something to be taken seriously. If we heard 'we survived the war dear, the virus isn't a bother to me' once, we heard it too many times''.Slowly and surely the message got through and people closed the barricades. Isolating itself caused problems and health has deteriorated, so it is important to seize the day, get support and be the best you can be.
As families start returning to work, they want to be prepared in case the worst happens and another lockdown becomes necessary. Everyone wants to avoid the accidents that may take them into hospital or mean they need to leave their homes.
Christian says, "Clients have lost confidence during isolation and they are worried for all sorts of reasons. People are keen to get their lives back on track, but many find all the new rules and risks daunting. People can genuinely struggle with face masks, saying they feel they feel they 'lose their senses when they put on their face masks'!  Coping with glasses, hearing aids, mobility aids and a face mask, takes some getting used to." 
Christian continues – "People are asking for help with all the jobs they haven't been up to doing for themselves during the lockdown. Cleaning floors, changing beds and gardening are enormous tasks for frail people and we are delighted to help provide more hygienic and safe living conditions at home"
Community activities stopped and even though they are slowly coming back, people who are at risk are right to be cautious about group activities.
Any gym bunny knows the toll of taking weeks off and fitness declines even more rapidly with age. With COVID-19, lung health and a healthy immune system is key.  Christian talks about combining essential care visits with exercise and nutrition –"we've seen brilliant outcomes when we accompany our clients for daily walks and with online classes. Good nutrition and hydration is always key in all we do."
Before COVID-19
In addition to all the help they provided in peoples' homes, the company swam, painted, visited museums, visited carefully selected gyms and fitness classes, practised Yoga, practised Feldenkrais, Pilates and were about to embark on Mosaic classes as well as regular beach, wood and town walks with clients.
Maximising the positives
Now the company is helping people catch up with all their appointments, they are doing more for people at home and they are taking people out to carefully selected places. Group classes and museum visits remain online.
Anything is possible
The benefit of same person care came into its own for managing risks during lockdown.
Christian says, "Mercifully, everyone stayed well and clients had someone consistent to relate to and have fun with. Carers found things to do with clients because they have genuine interests in common. Our Carers always want what is best and we are lucky to have access to so many skilled teachers around Whitstable who adapt to accommodate our clientele"
The company does not wrestle with back-to-back scheduling, so carers can make time for whatever is needed.
One carer set up a game of scrabble on the dining room table for his client which they 'chipped away at' over the weeks, others attended yoga and Pilates classes together online, there were virtual museum visits, arts and crafts and lots of listening to music.
As a specialist employer for older people, offering local work people love to do with pay above the real Living Wage – "Our carers are amazing people, who have truly gone above and beyond for us and their clients for months on end. Coming out of lockdown in elderly care is a joy with cares like ours"
www.seniorshelpingseniors.co.uk
Local News: The Whitstable Clipper (Issue 1)
May 2020
Local News: King's School Recreation Centre
7th November 2019
"This week we were lucky enough to have Sally Wilse owner of Seniors Helping Seniors UK  deliver a Dementia Friends information session.
Sally, a Dementia Friend champion, presented the session to 20 staff members and they all became Dementia Friends"
King's school recreation centre Read the full story here

Local News: Isle of Thanet News
South Korean delegates visited Seniors Helping Seniors to learn about successful elderly care.
Sharing Experience
Health ministers in Britain were "too busy with Brexit".  Christian Wilse, of Seniors Helping Seniors UK comments  "When you run a business that impacts as many lives as ours does, it's important to share experience. Korean delegates singled out Seniors Helping Seniors because we are driving change and raising expectations about ageing."
Seniors Helping Seniors in the UK already reaches over a million people each year for elderly care, giving families the help and peace of mind they need. Elderly people get support to live safely and well in their own homes and the model provides job opportunities for older people which earned the accolaide Top 20 most recommended care group in the UK.
With every new Seniors Helping Seniors that opens, the local community gets increased employment, great elderly care choices and it alleviates pressure on GPs and local hospitals and charities"
Franchising and  innovation
Franchising is about unique processes. It's about creating new methodologies and it's an ideal environment for innovation.  Sally Wilse says "We got into franchising to drive change in a sector close to our hearts and because we wanted to make a big difference"
Seniors Helping Seniors is about doing business the right way. The work with clients, the carers who work for the company, and the collaboration with franchise partners is 'doing the business the right way.'   Seniors Helping Seniors franchisees say the business approach is like a 'breath of fresh air.'  Sharing knowledge is the right way to do good business and it is becoming an expectation for successful companies today.
Changing the narrative elderly care
The Korean delegation was from local authority service provision in Korea.  Seniors Helping Seniors customers are self-funders, so our processes may not be are not applicable to the delegation because the end users are different.  It was the ambition to change thinking that we conveyed."
Helping to keep people active is a win-win for all involved.  Part re-published her by kind permission. Read the full story here 
 November 3rd 2019
Link shared  by kind permission

Isle of Thanet News
News for Ramsgate, Margate, Broadstairs and Villages. Winner of KPBA Kent news website 2018.
Kathy Bailes, Kent Digital Journalist of the year 2017, heard about our national award and how the work we do in Thanet is being replicated all over the country. Seniors Helping Seniors is a leading model for caring businesses which makes local people are very proud she said,  here's a snippet of her news item :
Thanet is leading the way with a service that matches seniors who would welcome some extra support at home, with seniors who want to help.
The Seniors Helping Seniors franchise in Thanet started trading in 2014  to show it could work in a relatively poor area compared to the rest of the county. Now four other offices in Harrow, Guildford, Tonbridge, Ashford are replicating the Thanet way of working.
The overarching USA arm of the business has been running 20 years. Seniors Helping Seniors UK is under the  stewardship of husband and wife Christian and Sally Wilse.
The model impacts the lives of caregivers, as well as those receiving care, with mature helpers providing help at home or out and about. Services include companionship, meal time help, shopping, transportation, medical appointments, hospital discharge, welcome home and convalescence, dementia care, respite care, holidays and overnights, housekeeping, house maintenance and repairs, gardening, pet care and more.
The Thanet scheme has 19 senior aged carers living and working on the isle …
Part re-published above by kind permission.
Read the full story here: https://theisleofthanetnews.com/2019/05/21/thanet-seniors-helping-seniors-branch-used-as-leading-model-for-caring-businesses/
May 21st 2019
Link shared  by kind permission
Local story: Exercise referral scheme
Kings Recreation Centre is one of the partners in the National Exercise Referral Scheme.  They published a case study about our client Joan who started weekly swimming again at the age of 92 in March 2019
You can download what they say in the PDF and read more about how they deliver the exercise referral on their website.
We are publishing details of our experience by kind permission here.  Our client Joan is living with dementia and she and her family hope her story will inspire others to keep active. The expert team at Kings Recreation, and all the participants in the exercise referral scheme, hope this case study helps to explain the steps people need to take to get referred, and to understand that there are services to help them. Many schemes operate throughout the area, there is plenty of choice. This is a story of how we helped initiate the idea, how we followed through and the benefits of #exercise referral. Thanks to the Steve and Craig and the team at Kings Rec and thanks to all those helping to keep people active.

National story: One of the foremost writers of the day on the elderly, social care and health, particularly dementia,  Pippa Kelly visited us in Canterbury to find out what we did when we hit our fifties!
Pippa met some of our carers and our clients and saw us at work. Her blog was published on her award winning site
July 5th 2018
Read the full story on Pippa's site, part is re-publsihed below by kind permission.
The only advert that Christian and Sally Wilse ever used for their care service Seniors Helping Seniors appealed to those with "the heart of a volunteer".  It was a clever idea that immediately weeded out anyone applying for the money.
"Applicants thought they were volunteering", Sally explained to me when I visited her and her husband at their house in Canterbury.
Client and carer are carefully matched according to personalities, likes, dislikes, interests and chemistry, and clients pay by the hour. The service is flexible
Since that first advert, applicants for Seniors Helping Seniors have all come via local word of mouth (and the enterprise has a page on https://www.homecare.co.uk).
Sixty-seven-year-old grandmother Pat Curtis of Herne Bay took redundancy from the Bank of America eight years ago.
One of six siblings, she has crafting in her DNA and is a member of a knitting group called the Herne Bay Cosy Crew. Since working for Seniors Helping Seniors, Pat has sourced small knitting needles for arthritic hands and says she always arrives at her clients' houses "casted on", whether this be for crocheting or knitting.
I accompanied her to see 84-year-old Gladys, who has dementia, at her Faversham home.  Pat calls in twice a week for an hour, in between official carer visits. When we arrived the TV was blaring in the corner, the remote too far away for Gladys to reach.  Unlike usual carers, those from Seniors Helping Seniors don't wash or dress their clients or dispense medication: their role is that of supportive friend.
When Gladys isn't up to knitting she holds the wool for Pat, who always makes them both a cup of tea as they sit and reminisce, look through the WI magazine or pot up a few plants.  I saw the power of this simple, human interaction as, TV turned off, the two of them chatted about Gladys' family; Pat skilfully drawing her neatly turned out, grey-haired friend into the conversation as Gladys' eyes lit up.  After each visit Pat messages Gladys' daughters to let them know how she is.
What Sally and Christian – and their US predecessor – have created in Seniors Helping Seniors (as I did in my own way for dad) is a 21stcentury paid-for model to take the place of close-knit communities, friends, neighbours and families.
It all began six years ago when, after successful media careers, Christian, then aged 54, and Sally, then 50, were made redundant. The couple decided they wanted to do something worthwhile with the rest of their lives.
When, last year, Eileen noticed that phone calls from Marion, one of Joan's old friends, had dwindled, Eileen arranged to drive Joan from Canterbury to visit Marion in Crawley.
"Joan was delighted", Eileen said. "We all went out to lunch, where the two of them reminisced about shared holidays and adventures while looking at old photos".  Joan's feeling of wellbeing and happiness remained well after the visit.
Katherine Spencer, who at 53 has been in the caring profession since she was 16. She joined the company last October because she was impressed by its ethos.  "At Seniors Helping Seniors its all about getting it right for the client. It's flexible work and I feel respected and nurtured as a carer".
Seniors Helping Seniors wasn't around for my dad.  However, I was lucky: Marius and Rosemary turned out to be honest, decent people. But I won't forget that heart-in-mouth moment when I entrusted the keys to dad's apartment to a young Polish man I had interviewed once (albeit having studied his CV and background checks).
Sally and Christian Wilse spotted something good that was happening over the Pond, recognised its strengths, realised it fulfilled a growing need – as far-flung families, greater numbers of working women and increased life expectancy result in too many older people being left to fend for themselves – and decided to replicate it here.
What's more, they put clients' needs at the centre of their service and tailor it around them with carefully matched carers rather than creating a one-size-fits-all framework.  It's neat, it's simple, it works and – best of all – it can be replicated.  Let's hope it is.
National story: Older people empowered by caring for fellow elderly
Editor Sue Learner
May 30th 2018
Read the feature on Homecare.co.uk. Part re-publsihed below by kind permission.
.
A revolutionary care concept where able, older people care for their fellow elderly
is becoming increasingly popular in the UK
Peggy aged 93, cared for by Eileen, aged 66
Christian and Sally Wilse, founders of Seniors Helping Seniors (UK), claim to solve two of the biggest social problems in the UK – elderly care and employment opportunities for people as they age.
The couple brought the concept over from the US five years ago. Currently they are just based in Guildford, Harrow and Canterbury but they hope to eventually have 25 offices in the UK.
Their oldest caregiver is 83 but the average age is 65-75. They are usually semi-retired or have taken early retirement.
Mr Wilse says: "We don't do personal care, so the job does not involve lifting, bathing, dressing, etc."
Duties include preparing meals following our clients' directions, companionship, pet care, shopping, helping with visits to the doctor, gardening, dementia care and overnight stays.
They now have around 45 people on the payroll and have never had any problems recruiting people.
Caring gives them a sense of purpose
"It keeps them active and gives them a purpose. Some live by themselves which can be lonely, so this means they can go out and meet people."
Sixty-six year-old Eileen Connell has worked for Seniors Helping Seniors (UK) Ltd for just over four years.
She says: "In this job I am giving something. but I am also getting something back."
She cares for 93-year-old Peggy, who has been living with dementia for several years. "On a good day we go out and on a not so good day we stay at home and chat, drink tea or sometimes she sleeps.
"She had a spell in residential care two years ago and we maintained our daily visits to keep the continuity going and so she would have a familiar person to relate to as she settled in. The residential care didn't work out very well so her family decided to arrange for her to be cared for in her own home."
Peggy has a live-in carer who has a two hour break every day. This two-hour break is covered by a visit from a caregiver from Senior Helping Seniors (SHS).
It is easier to relate to someone who is closer in age
"Peggy is of the same generation as my late parents. The things we talk about are the things I would talk to my parents about if they were still alive. We share memories of life in 50s and 60s that I know she can relate to.
Eileen and Peggy
"When I take Peggy out, we go to the same familiar places where I know it won't be too busy.  We exchange a lot of non-verbal smiles and gestures to share our thoughts on what is happening around us.
"I see another lady who is in her 80s. She has early stage dementia so we are able to do more of the things I used to do with Peggy. We go for walks, go to the garden centre or parks and to chair based yoga."
Ms Connell finds that similarly to lots of people living with dementia, "she doesn't always remember to eat, or thinks that she has already eaten, so my visit involves taking her out for a cooked breakfast or early lunch.
"Sometimes we prepare food to eat at home. After our yoga sessions we meet up with two other SHS providers and their clients and we all go for lunch together. The three of them eat like sparrows when they are on their own but if we are all eating together they can manage to eat a whole roast dinner and a pudding. The social side of eating makes a big difference. I can relate to that as I live alone and I too find it easier to prepare and eat meals with company."
"I wanted to do something with a real purpose that is also paid and flexible. I like to be able to work as many or as few hours as I want. I wanted a job that would fit in with my life and I enjoy working with people.
'Win-win situation'
Having older people helping other older people is a win-win situation, according to the SHS founder.
"Both enjoy being together. They gain different things but they both gain health benefits. Caring, feeling purposeful and earning money is proven to improve health and well-being, which is why our CCG (clinical commissioning group) calls this 'perfect primary care' improving future and current health prospects," he says.
Caregiver Tony Cook, aged 70
Tony Cook is aged 70 and has been caring for a 90-year-old lady for two years.
He takes her to classical concerts and out for lunch. He says: "She likes getting ready and all dolled up. It seems to give her a real lift.
"It is good for me as well as it keeps me busy as I have been used to keeping very busy all my life."
Founders Christian and Sally Wilse have found using older caregivers can really help if the person they are caring for has dementia.
"They may be resistant to someone coming into the home to care for them but if they are a similar age, they often think they are a friend and refer to them as a friend."
This is borne out by a reviewby the son of a man with dementia who says: "Dad talks about his regular carer as a friend that visits".
"Doing this job is so rewarding as you end up seeing a smile on both the caregiver's face and the person being cared for," he says.
Local Business Award Win:
Customer Services Award Win for
Seniors Helping Seniors Canterbury
March 30th 2018
 Local News Event: Seniors Helping Seniors Canterbury and Thanet is a Canterbury Business Awards Finalist
March 2018
Finalists in two awards: Customer Service award and the Innovation Award
Customer Service Award Finalist – We demonstrated how we offer high quality customer service
Innovation Award Finalist– We demonstrated how we have brought new ideas to life
The judges have visited and interviewed us in depth so they could make a decision on who the winners for each category are. The winners will  be announced at a dinner which will be held at the Canterbury Spitfire Ground on 29 March 2018
The Business Awards are run by Best Business Events  You can read more about the awards in Canterbury Index magazine here
We are  very proud to represent every one of our carers on 29th March. Thank you for your love, kindness, skill and hard work.  You never let anyone down and we hope we do your proud on the night.
We are  thrilled to be representing our amazing customers who go out of their way to recommend us so highly.  You can read it here  Top 10 most highly recommended care companies in UK because of the recommendations given by so many of our Canterbury customers (9.9 out of 10 and counting!) Thank you!
 Local news: Canterbury Index Magazine
February 2018
The No. 1 lifestyle magazine for Canterbury, Whitstable, Herne Bay, Faversham including villages on the East Kent Coast. Canterbury INDEX is a monthly lifestyle magazine. Love is in the air in the February issue featuring Action on arthritis: More than 10 million Brits have arthritis and news on our growth"Innovative Care company expands.  Celebrating and expanding"
Copied here by kind permission:
Re-publsihed here by kind permission.
National news: Daily Mail
November 9th 2017
Career Mail is a regular section in the printed Daily Mail national newspaper. They often look at opportunities for the ageing population.  Knowing we provide work for older workers and business opportunities for people who want to set up their own Seniors Helping Seniors, they contacted us when they published an article on what people can use their management skills for.  The article  appeared in print and the author Linda Whitney kindly gave her permission to refer to her Career Mail article
Harnessing your skills and show you care
IF YOUR career background is in management, it is a useful skill to transfer to a franchise.
Christian Wilse and his wife Sally run the Seniors Helping Seniors franchise in Canterbury, Kent, employing older people to prove elderly care services.
And Christian, the UK master franchisor of Seniors Helping Seniors, is also recruiting UK franchisees with management skills and heart.
"Over 95 per cent of Seniors Helping Seniors' 300 franchisees across the globe, left the corporate world to concentrate on doing something worthwhile with their skills" he says.
Seniors Helping Seniors franchisees match carers to clients and use their project management and operational skills for efficient scheduling and logistics.
Andy Boothman, a former management franchisee at a cleaning franchise who is considering investing in Seniors Helping Seniors, says, "My people skills will transfer well to Seniors Helping Seniors, and I will use my financial management and marketing skills. As a former franchisee I also know franchisors help you develop skills you lack.
Christian adds: ' we want to hear from people with management skills.  The current investment required is £10,000 so it does not usually make too big a dent in a redundancy package or pension pot.
Re-publsihed here by kind permission.
National news: Providing rewarding work to an ageing population
Linda Whitney featured Seniors Helping Seniors®  in What Franchise Magazine to explain how our managed care service makes a rewarding business you can run from home and the opportunities of our franchise.  Seniors Helping Seniors  provides services for an ageing population, is often run by older entrepreneurs and the  workforce is older workers
November 2017
Seniors Helping Seniors explains why old fashioned is best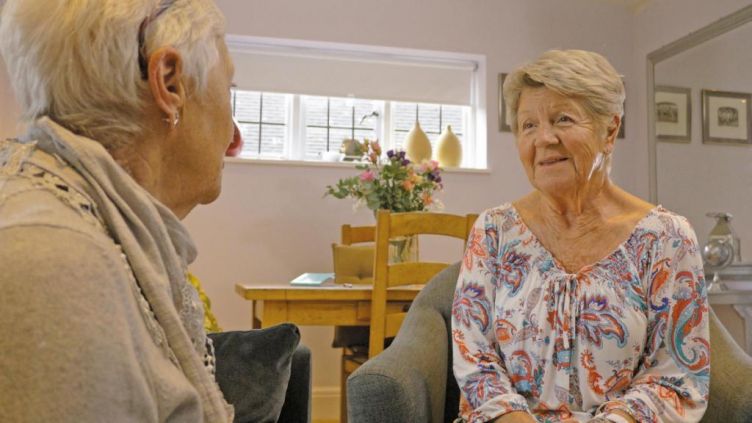 In the very near future, it's going to be increasingly unusual for retirees not to work. Add to that people changing jobs for a better work life balance, people being made redundant, more and more people are looking for new work options.
The driving forces are increased life expectancy, economic uncertainty, a re-visioning of later years, where people want to do something useful and rewarding, and the elimination of the idea that pensions will be able to sustain us. Fortunately, there's also greater need for the skills of older people. Especially in care.
Compassionate
Seniors Helping Seniors® has a 20-year franchising history and an award winning care brand in the UK, which represents loving, caring, giving and compassionate care.
An emphasis on service, which could be called old fashioned, may not be the most obvious money making opportunity, but there's no lasting substitute for values.
Automation, databases and dealing with people as if they're problems that need solving in the most efficient way all make sense to the bottom line, but they're not polite or dignified and they don't put clients first.
Quick fix solutions have a knack of coming unstuck when things like life get in the way.
What people need when they're looking for care for the elderly is a fully managed service they can trust. They want to be able to plan and rely on it to adapt and accommodate events in their lives and events in carers' lives.
Seniors Helping Seniors® is not greedy for profit. Every decision made is about doing the right thing for clients and staff and it's evidence that doing good first makes great money.
Elderly care is provided by older carers with either professional care backgrounds or experience of caring for loved ones. The work is well paid, rewarding and flexible, so it fits nicely around their later life commitments.
The company has no issues attracting or retaining carers because carers are fully supported, well paid and fully respected.
The care provided is outstandingly effective because the carer is carefully matched to the client, personally introduced and the schedule is well managed. Because carer and client are of similar ages and they have a lot in common, the care is more easy to accept, even by the most fiercely independent. The objective is to keep people safe, well and living in their own homes as long as possible.
Re-publsihed here by kind permission.
National news: Daily Mail
May 1st 2017
The newspaper leads with a front page story "Shame of Care Homes That Just Don't Care" and how there are "four serious failures probed every day, 100 care firms struck off in a year and charities warning of 'frightening crisis'" The Daily Mail's policy editor Daniel Martin laid bare the extent of the crisis in the elderly care system and  Linda Whitney's asked us how Seniors Helping Seniors is helping. The article  appeared in print and the author Linda Whitney kindly gave her permission to refer to her Career Mail article
Helping Hand coming from the Senior Service
National news: What Franchise magazine asked us how fully managed elderly care services help families:-
Focussing on the problems of an ageing population appeals to older entrepreneurs 
The over-50s have come to dominate start-ups. The combination  of private pension payouts being accessible at 55, more employees being offered redundancy in their 50s and the knowledge that most 50-year-olds have another 30 years of active life are tempting more people to become entrepreneurs. 
Starting a business in your 50s is easier than you think!
Startups.co.uk is the UK's leading independent online business resource, helping people to start, grow, buy, run and sell a business. They
interviewed us about our business to help them 
shake off the notion that starting a business in middle-age isn't a good idea.
Re-published here by kind permission.
More than four out of 10 new businesses in the UK are started by people over 50, 
over 55s are now 63% more likely to start businesses than 10 years ago and 
those who start a business in their 50s are 42% more likely to be successful than their younger counterparts. O
lder entrepreneurs have the advantage of being able to tap into wealth of experience and knowledge and how we are looking for 
good-hearted entrepreneurs to become Seniors Helping Seniors business owners in UK.
59-year-old Christian Wilse launched the UK franchise arm of elderly home care service Seniors Helping Seniors in January 2014, after received funding from The Start Up Loans Company to start the business.
Based in Kent, Wilse's business helps seniors and their families by offering compassionate, loving care from fellow seniors.
Wilse and his wife have been working full-time for the business ever since launch date. They are the only full-time employees but work with around 100 part-time care providers – on a typical month's payroll the company will have around 40 working care providers. Due to most of the care providers being retired, they will work around 10-20 hours a week, but the shift patterns are very flexible.
Previously, Wilse spent most of his career as a successful businessman in the media field. He ran a media monitoring company, and set up Tiscali in Norway (where he is originally from), amongst other business ventures.
Additionally, Wilse is actively looking for good-hearted entrepreneurs to become Seniors Helping Seniors business owners.
Making Money Magazine asked us to identify the pros and cons 

 worth considering before you invest in a franchise at 50-plus Linda Whitney

Re-publsihed here by kind permission.
National news: Seniors Helping Seniors Scoops Top 10 Award
May 1st 2017
Seniors Helping Seniors has been recognised as a Top 10 Recommended Agency Group in the UK by Homecare.co.uk – The leading UK home care website
A subsidiary of the British Business Bank publishes the Seniors Helping Seniors Success story
April 28th 2017
Start Up loans is a subsidiary of the British Business Bank. It delivers the Government's start up loans programme and published the  Seniors Helping Seniors Success story. You can read it here  https://www.startuploans.co.uk/success-stories/seniors-helping-seniors/
Care Industry Magazine Care Talk Highlights examples of good practice and innovation in the sector
February 8th 2017
You can read it here  new national opportunity for innovation in elderly care in-home services 
What rights do people in care have?
Choose is a UK price comparison site, focused on helping consumers find the best deal and understand their rights.
December 19th 2016
Evictions from care homes and families being banned from visiting hit the news in November 2016 and since no one is keeping records of these evictions, Choose asked us to explore what rights people in care have.
You can read it here What rights do people in care have? We explained how we help people gain the control to plan for elderly care and to feel safe and comfortable in their choices.
What care options are there for people on a budget?
  Choose  asked us to write a money feature about care budgets. Looking at elderly care options on a budget and planning ahead to avoid a crisis.
November 22nd 2016
You can read it here What care options are there for people on a budget? how do we ensure access to the elderly care we require, and on a budget that suits us? The key is to start looking before care the crisis
National news: Preventing Malnutrition in later life
Malnutrition task force is an independent group of experts across health, social care and local government united to address avoidable and preventable malnutrition in older people.  Established in 2012, they aim to share expertise and work with partners in hospitals, care homes, local authorities and private and voluntary organisations.
As part of Carers Week 2016, they asked us for some some suggestions on how to rekindle an interest in food when a loved has one gone off meals or  lost confidence in the kitchen.
November 15th 2016
You can read it here Boosting appetite for someone with dementia or a frail appetite    
National news: Activities around mealtimes:
Unforgettable The world's best marketplace for dementia products and services, asked us to talk about how we use slow cooking to encourage those with frail appetites to be interested in mealtimes again.
The whole mealtime experience is one of the most important contributions to an elderly person's health and happiness. However, if your loved one with dementia is struggling in the kitchen, or not sure what to cook, you may need  some ideas.  You can read it here Boosting appetite for someone with dementia
TELEVISION!
BBC TV Special Report
October 12th 2016
The BBC filmed a special news report on the success and opportunities at Seniors Helping Seniors
October 12th 2016
Evening News: Seniors Helping Seniors®  Featured in a Special report on BBC South East evening news
To view Click on image:
Re-published here by kind permission.
Lunchtime News: BBC South East, announcing our services on lunchtime news:
To views Click on image
Re-published here by kind permission.
Opportunities:  Clients are eager to have help in the south east and east of the UK as soon as possible, so the company is looking to recruit new franchisees here first.
The service provided by Seniors Helping Seniors is out of the scope of the Care Quality Commission because it's not 'personal care', so the set-up costs of this franchise are significantly less than care models offering personal care.
The franchisor is a British Franchise Association member and has experience of what is takes to repeat and reproduce successful businesses in different locations. The care and support Seniors Helping Seniors franchisees receive is as outstanding as the care provided to clients.
This is a way to run your own business, as opposed to looking for work yourself at 50-plus years of age.
Local news: Monthly Magazine Canterbury Index on Seniors Helping Seniors expanding to Harrow
July 3rd 2016
Read about us in the Canterbury Index 3 Jul 2016
Re-published here by kind permission
Please welcome our second office; Harrow & Northfields in Middlesex, North London
George Demetriou (left) and Christian Wilse signing the agreement 17.03.2016
National news: Seniors Helping Seniors  accredited with Living Wage Mark
August 28th 2015
You can read about it here: Accreditation press release_celebrating new employers
Radio!
BBC London
Where will the carers come from ?
June 22nd 2015

Re-published here by kind permission.
Radio BBC Radio Kent
Lembit Opik interviews Christian on our award for the Big Venture Challenge
May 29th 2015
News & Awards 2015:
BBC Radio Kent 29/05/2015: Interviewed by Lembit Opik –
Re-published here by kind permission.
National News: Big Venture Challenge Winner 2015: Announced
May 28th 2015
Re-publsihed here by kind permission.
 National News: Scoot National award
SCOOT Headline Award for "Small Business – Service Industries" You can read it here- National Bronze Winner 2015
NEWS: Social Enterprise National Innovation & Excellence Award Win
You can read about it here: Innovation & Excellence Award 2015 –  Social Enterprise (page 99)
National news: Daily Mail
Asks how to age proof your body
January 19th 2015
Sir Muir Gray – One of Britain's top doctors and a former Cheif of knowledge for the NHS talks about Seniors Helping Seniors UK in his article in the Daily Mail (Mail Online) – January 19, 2015
Re-publsihed here by kind permission.
Local news : Canterbury Index magazine asks about Planning for Later Life
Read and download our article in Canterbury Index Magazine, April in pdf Planning for Later life 2015
Re-published here by kind permission.
National News: Success Stories
Re-published here by kind permission.
Christian Wilse launched Seniors Helping Seniors, and started trading officially in January 2014.
The business which is based in Canterbury, Kent is a profit for purpose organisation (considered social entrepreneurship) and Christian has won multiple awards for the social impact of the business. Seniors Helping Seniors is an in-home care service that helps seniors and their families by offering compassionate, loving care from fellow seniors.
Christian and his wife have been working full-time for the business ever since launch date. They are the only full-time employees but work with around 100 part-time care providers- on a typical month's payroll the company will have around 40 working care providers. Due to most of the care providers being retired, they will work around 10-20 hours a week, but the shift patterns are very flexible. Read the story in full here https://www.startuploans.co.uk/success-stories/seniors-helping-seniors/
Radio!
Local Radio: BBC Radio Kent
Julia George asks us about hospital transfers
July 31st 2014
BBC Radio Kent 31/07/2014: Call to Julia George
Re-published here by kind permission.

National news:  Sustainability Award for Innovation in Social Enterprise Win 2014 

UnLtd.org.uk   supports Social Enterprises.  UnLtd awarded us our first major award win and you can read about it here Read more here

Re-published here by kind permission.

"The Judging panel have had the unenviable task of selecting those companies most worthy of one of these prestigious awards and after much deliberation they are pleased to declare Seniors Helping Seniors has been awarded Sustainability Award for Innovation in Social Enterprise."

Seniors Helping Seniors® is a Fast Growth Award Winner for 2014 for its innovative in-home care service –

Seniors Helping Seniors® services have been part of a recent (April 2014) research "Pushing Boundaries" by UnLtd who supports Social Enterprises. We are case study no 8 on page 30 – you can download the research here UnLtd.org.uk

Seniors Helping Seniors® in-home services features in the annual magazine "Planning for Later Life" on page 46 – You can read an online version here or contact us on 01227 454 900 or send a mail to administrator@seniorshelpingseniors.co.uk and we will mail you a copy.
Our published News & Events started with these pioneers and this story
Thank you to all our loving caring giving and compassionate carers
Do you have the heart of a volunteer? Do you or do you know a friend that would like to help and care for others? We are always looking for loving, giving, caring people that are compassionate about others. Contact us for a friendly conversation on 01227 454 900 or email contactme@seniorshelpingseniors.co.uk
Photo Gallery at Face book
Photo Gallery from website
At Seniors Helping Seniors we pride ourselves on the elderly care we provide. The employment opportunities, the customer service and the business opportunities we provide are outstanding and we've made a positive change to elderly care.
Expert care and support  is provided in the friendliest way.  Our company has over  20 years' experience in private home care and elderly services. Our team of carers have a hugely positive impact on the lives of people in our community – from Canterbury and Whitstable to Thanet, Sandwich, Deal and surrounding areas since 2013.
Our senior helpers provide private home care and support. Whether it's light housekeeping, laundry, cooking, shopping, mowing the lawn, getting you or your loved one out and about, or even just helping to keep you organised – no job is too big or too small.
We believe that seniors who provide care and companionship to other seniors is a very rewarding and fulfilling private home care model as it allows both parties to give and receive at the same time.